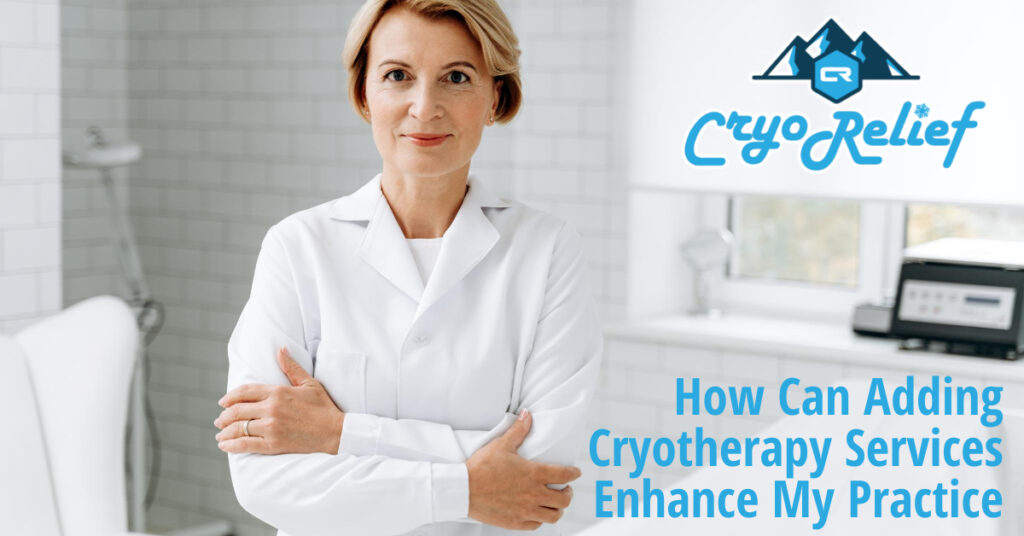 Adding cryotherapy services to your wellness, fitness, beauty, or sports practice can have many benefits for both your patients and your business. Cryotherapy can help improve patient outcomes by providing a non-invasive, drug-free treatment option for pain relief and other conditions. It can also attract new patients and grow your practice. Our next series of articles will explore some ways cryotherapy can enhance your practice.
Benefit #1
Additional Service Offerings
In today's fast-paced society, people value the "one-stop-shop" concept where they can receive multiple services at a single convenient location. Whether you operate a medical practice, physical therapy/rehabilitation center, chiropractic practice, spa, fitness center, etc., cryotherapy gives you an opportunity to offer additional services to the individuals you serve. How you choose to market your cryotherapy services is up to you but adding a cryotherapy chamber for whole body electric cryotherapy or a local cryotherapy device can be used to help people recover from injuries more quickly, provide relief from chronic pain conditions, and improve their overall sense of well-being and quality of life.
Our next article will discuss another way that adding cryotherapy services can enhance your practice.
Cryo Relief is proud to be a premier provider of cryotherapy products for pain relief centers, chiropractic care and medical practices, spas, fitness studios, sports rehabilitation studios, physical therapy / rehabilitation centers and more. Our team of cryotherapy specialist can advise you on purchasing a whole body electric cryotherapy chamber, local cryotherapy device, and other specialized cryotherapy products designed to enhance your practice. Best of all, we can help you with your cryotherapy equipment financing to make it an affordable investment into your future. Give us a call to learn more today!